Cockroaches are some of the most dreaded household pests. In addition to being tough to get rid of, they carry a variety of dangerous diseases.
Based on our experience as licensed pest control professionals, we're sharing the best cockroach killers that we actually use in the field.
Read on to discover the top products that will help you eliminate infestations quickly and effectively on your own.
Summary:

A broad-spectrum insecticide that can be used indoors and outdoors to kill cockroaches and other pests.

Summary:

A highly effective, affordable bait gel that attracts and kills roaches quickly – indoors and outdoors.

Summary:

A compact bait station that contains paste bait and is perfect for placing under appliances and in food storage areas.
Best Overall
Summary:
A broad-spectrum insecticide that can be used indoors and outdoors to kill cockroaches and other pests.
Best Bait
Summary:
A highly effective, affordable bait gel that attracts and kills roaches quickly – indoors and outdoors.
Best Bait Station
Summary:
A compact bait station that contains paste bait and is perfect for placing under appliances and in food storage areas.
Our Top Picks
Best Overall
Alpine WSG
Summary: A broad-spectrum insecticide that can be used indoors and outdoors to kill cockroaches and other pests.
Type: Water-soluble granule (WSG) insecticide
Key ingredient(s): Dinotefuran 40%
Also good for: Ants, bed bugs, and more than 20 other pests
Alpine WSG is a powerful, non-pyrethroid, non-repellent insecticide that leverages Dinotefuran as its active ingredient.
This is important because the EPA has granted Dinotefuran "Reduced Risk" status for use in inhabited places, like homes and commercial buildings.
We chose this pesticide as our "Best Overall" primarily because of how effective and versatile it is.
Using a sprayer, you can apply this product indoors as a broadcast treatment and outdoors as a crack and crevice treatment on the sides of your building and your sidewalks, driveways, and patios.
Alpine WSG is also highly effective against cockroaches and a variety of other insects, including ants, fleas, houseflies, and more. This product provides about 30-60 days of residual protection for most insects and is easy to use and apply.
Our Experience: When we tested this product, we found it was odorless and didn't stain any surfaces we applied it to. Unlike other sprayable insecticides, this one dissolves entirely in water, so it didn't clog our spraying equipment. That said, the company recently updated the packaging on this product, and we found that the new lid can be a bit difficult to use for measurement.
How to Use: Read the product label directions for spray dilution measurements. Once you've located your desired finished dilution concentrate, add ½ of the water you'll be using to the spray tank.
Add the insecticide to the water, then finish filling the spray tank. Gently agitate the tank until the product dissolves completely.
Re-agitate the solution if there's any significant break in your application process. One gallon of finished dilution treats approximately 1,000 square feet. Once you've mixed the solution, use it within 10-14 days for best results.
Pros:
Kills cockroaches within hours.

Offers 30-60 days of residual protection.

Safe for kids and pets when used as directed

Dissolves quickly and doesn't settle once mixed

Dries clear

Odorless

Non-staining

Considered a "Reduced Risk" pesticide
Cons:
Highly toxic to bees and other pollinators

Not ready to use – must be diluted

People and pets cannot enter the treated area until this product has dried completely
Best Bait
Bayer Maxforce FC Roach Killer Bait Gel
Summary: A highly effective, affordable bait gel that attracts and kills roaches quickly – indoors and outdoors.
Type: Bait gel
Key ingredient(s): Fipronil 0.05%
Also good for: Stored product pests, including beetles, weevils, and mealworms.
Bayer Maxforce FC Roach Killer Bait Gel is our go-to when we need a potent bait gel to control severe cockroach infestations. This product uses fipronil as its active ingredient, which is known as a powerful, fast-acting roach killer – eliminating species like the German Cockroach in as little as two days.
This product kills roaches on contact and by ingestion, which means it will destroy cockroaches who eat it, touch it, or carry it back to harborage areas to share with their friends.
This bait also comes in a 33-gram syringe, meaning you get roughly 10% more bait in this package than you would with comparable products so that you can kill more roaches with a single application. Uniquely, this bait will continue to attract and kill roaches for up to a year after application.
Like any bait product, this one should be used as part of a bait rotation program that switches between baits with different active ingredients. This helps prevent bait resistance and helps overcome behavioral resistance. In other words, it ensures that roaches don't get tired of the baits you're using.
Our Experience: We field-tested Bayer Maxforce FC Roach Killer Bait Gel and found that it attracted roaches quickly and killed them almost instantly. We saw a significant reduction in roach activity within two days of using the product. The formula remained appealing to roaches even after the gel dried out and developed a film on top.
How to Use: Read the product label for application rate instructions for your area. Apply the gel as thin beads or round spots into cracks and crevices.
Place the bait in cockroach feeding and harborage areas, such as under baseboards, below sinks, near water pipes and water heaters, near dishwasher equipment, in wall voids, or near cracks and crevices. For best results and provide numerous small bait placements.
To encourage bait consumption, get rid of other foods (like pet food or trash) the cockroaches may be eating. Inspect bait placements regularly and reapply when the bait becomes dusty.
Pros:
Kills roaches quickly

No vapor, fumes, or odors

Works both indoors and outdoors

Ideal for severe roach infestations

Works great as a spot treatment

Provides long-lasting control of up to 1 year
Cons:
Should not be applied in dusty areas

Bait should not be used on porous surfaces like unsealed concrete

Bait may stain certain surfaces

It can be a hazard to kids, pets, and people when applied in residential settings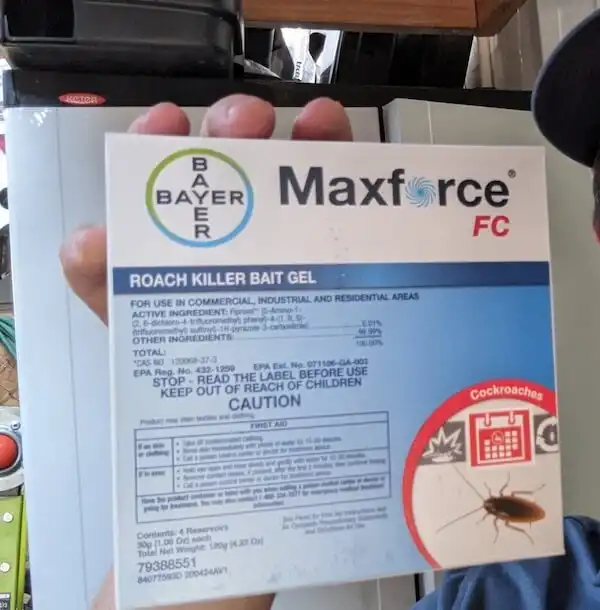 Best Bait Station
Advion Arena Cockroach Bait Station
Summary: A compact bait station that contains paste bait and is perfect for placing under appliances and in food storage areas.
Type: Bait station
Key ingredient(s): Indoxacarb 0.6%
Also good for: Designed to target only cockroaches
While baits can effectively control cockroaches, they're dangerous to kids and pets if left out in the open.
Fortunately, Advion Cockroach Bait Arena solves that problem by containing the bait inside a small, one-inch bait station shaped like a hockey puck.
The paste bait within these bait stations attracts cockroaches and targets even bait-averse roach species like the American and Brown-Banded cockroaches.
Each bait station includes an adhesive backing that allows you to mount it on surfaces like the sidewalls and inside corners of your cabinets.
What makes this bait station unique is that the active ingredient in the bait doesn't kill roaches right away. Instead, it delays just long enough for the roaches to return to their harborage area and spread the bait around, which kills other roaches.
In fact, each roach that comes into contact with the bait will kill an estimated 40 other roaches via contact, feces, or feeding.
These bait stations last up to five years at room temperature when unopened and one year after opening.
Our Experience: When we tested these bait stations, we found them easy and mess-free to use. Because the bait stations already contain bait, they're convenient to apply, while the enclosed design keeps bait fresh for up to three months and prevents kids and pets from accessing it. The adhesive backing is strong enough to stick to various surfaces securely, which makes it easy to place this bait station right in cockroach harborage and feeding areas.
How to Use: Apply the bait to areas that cockroaches frequent, including into wall voids, behind and under appliances and cabinets, and in other harborage areas, such as behind toilets, between the refrigerator and other appliances, underneath the dishwasher or oven, or in the upper corner of closets.
Use 3-5 bait spots every ten linear feet for heavy infestations. For light and moderate infestations, apply 1-3 spots of gel bait per ten linear feet, with each spot being about ¼" in diameter.
For best results, distribute several small applications within an area.
Pros:
Ready to use out of the bag

Ideal for use in places like drawers and cabinets, where uncovered bait could contaminate food, cooking utensils, and food storage

Long-lasting

Can be placed vertically or horizontally

Pet-safe if used according to label directions

Reduces roach populations fast

Great for both indoors and outdoors

Shields roach bait from people and pets

Low toxicity to people
Cons:
Must be used in conjunction with other roach control methods

Can be unsightly

These bait stations should not be used in areas that were recently treated with residual spray treatments

May cause roaches to die in exposed areas

Less effective for larger roaches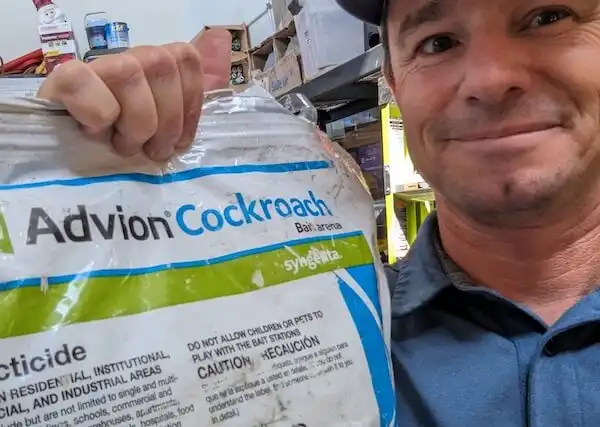 Best for the Kitchen
Zoecon Gentrol Point Source
Summary: A specialized roach control device that interrupts the lifecycle of roaches and stops them from reproducing.
Type: Insect growth regulator (IGR)
Key ingredient(s): (S)-Hydroprene 90.6%, Other Ingredients 9.4%
Also good for: Stored product pests, including red beetles, confused flour beetles, and merchant beetles.
Zoecon Gentrol Point Source is hands down the best cockroach insect growth regulator (IGR) on the market. Insect growth regulators disrupt the life cycle of roaches during the egg and larval stages of development, making it impossible for them to reproduce past that point.
Although this product doesn't kill adult roaches, it is an excellent option for anyone who wants to keep roach populations under control, especially in areas where foggers or sprays aren't appropriate or where it's impossible to eliminate enough alternative food sources to make gel baits highly effective.
Our Experience: When we tested this product, we found it easy to use and noticed that it started to control roaches within days. We also appreciated the continuous release of the IRG ingredients, which makes this product a reliable part of any good roach control program.
How to Use: Don't activate the Gentrol Point Source device until you're ready to use it. To activate a disc, press your thumb and forefinger firmly onto the pouch at the disc's side.
You'll know you've activated the capsule when you hear a snapping sound, which indicates that the IGR ingredients have been released into the disc.
Peel off the disc backing and stick it vertically or horizontally in any place you've noticed roach activity, such as behind or beneath kitchen appliances and cabinets, in bathrooms, under sinks, and near water pipes, in cracks and crevices, and behind toilets. Do not place the disc where it will be accessible to children.
Use a pen to mark the month when the disc was activated. Replace the disc after 90 days.
Pros:
A good alternative to spraying and fogging

Provides long-lasting pest control

Affordable

Safe for use in food preparation areas like kitchens

Each station treats up to 75 square feet

No mess or mixing

No need to vacate areas during treatment

Low toxicity
Cons:
Does not kill adult roaches

Should always be used in conjunction with other roach control products

Does not work as quickly as contact sprays and insecticides

Not labeled for outdoor use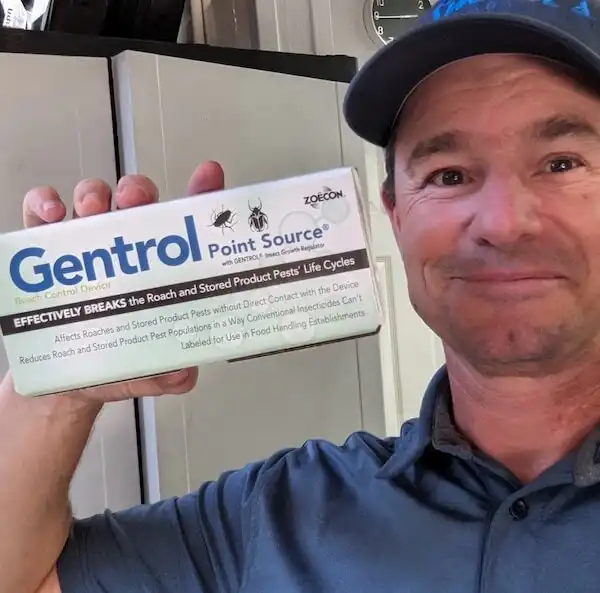 Most Eco-Friendly
Nature-Cide All-Purpose Insecticide Aerosol Spray
Summary: A botanical insecticide that kills roaches on contact without toxic residue.
Type: All-purpose spray insecticide
Key ingredient(s): Clove Oil – .05% Cottonseed Oil – .05%
Also good for: Spiders, ants, aphids, beetles, box elder bugs, caterpillars, earwigs, fleas, flies, hornets, mites, mosquitoes, clothes moths, silverfish, ticks, stink bugs, yellow jackets, silver leaf white flies, and others.
If you're looking for a product that kills roaches on contact but isn't as toxic or dangerous as many traditional insecticides, look no further than Nature-Cide All Purpose insecticide.
Formulated from 100% natural ingredients and potent essential oils, this contact spray immediately kills roaches and other pests.
Thanks to its aerosol formulation, this product is pre-mixed and ready to use right out of the can, which makes it perfect for spot-treating roaches in hard-to-reach areas like cracks and crevices and around door and window frames. You never need to worry about mixing, measuring, or diluting concentrate or mixing up a fresh batch of the product every time you want to kill a cockroach.
Our Experience: When we tested this product in our homes, we found that it doesn't leave a sticky or oily residue, which many essential oil products do. That said, the natural formula wears off faster than traditional pesticides, so we did have to reapply this more frequently than other products to eliminate roaches.
How to Use: Shake this can well before use. Spray the formula liberally into cockroach harborage and feeding areas. Repeat as needed until the infestation stops.
Pros:
Ready to use formulation

Kills roaches instantly

No known risk to people, pets, or the environment

Non-toxic and made with natural ingredients

Affordable

Does not leave pesticide residue

Safe for both indoor and outdoor use

Will not stain surfaces

Safe for daily use
Cons:
No residual protection – must contact pests directly to kill them

Must be combined with other roach control products, like residual pesticides, for comprehensive control

Requires daily re-application

The plastic spray nozzle cracks easily

Strong essential oil smell may be unpleasant for some people
Buyers Guide
1. Prioritize sanitation
The first step of any cockroach treatment effort should be sanitation. Keeping your house clean is the only way to eliminate the food, moisture, and shelter cockroaches rely on to establish and maintain populations. 
In fact, without proper sanitation efforts, no other control method will be effective. 
Here are a few sanitation tips we recommend:
Remove moisture. Cockroaches prefer warm, moist environments. To get rid of them, remove as much moisture as possible. Fix leaks in pipes, install dehumidifiers in basements and crawl spaces, and run vent fans in humid rooms like kitchens and bathrooms. 
Get rid of food sources. Cockroaches eat various substances, including starches, sweets, grease, meat, cheese, leather, starch in book bindings, glue, paper, and more. To control cockroach populations, remove as many of their food sources as possible – clean up all kitchen spills promptly, store pantry goods in sealed, insect-proof containers, and avoid leaving pet food out overnight. Secure garbage in durable, pest-proof cans, and take indoor recycling out nightly. 
Seal gaps and cracks. Remove cockroach harborage areas and access points by using caulk to seal gaps and cracks where they may be hiding. Pay special attention to the areas around vents, utility lines, outlets, and gaps and cracks around baseboards or trim. 
2. Use a variety of treatments
Based on fossil evidence, cockroaches have lived on Earth for about 125-140 million years. In that time, they've evolved to survive, making them some of the most successful pests out there – and some of the most difficult to eliminate. 
Because of this, you can never just use one product to get rid of roaches.
Instead, you need to use a variety of treatments. We recommend leveraging every treatment we've recommended in this list.
A combination of gel baits, bait stations, residual treatments, and insect growth regulators will work together to target roaches at every phase of development, get rid of infestations, and prevent population re-establishment.
3. Alternate baits 
Cockroaches can be difficult to eradicate with baiting problems. There are two reasons for this. 
The first is that cockroaches are well-known for developing bait resistance, meaning they can consume toxic bait and survive. 
The other reason is that because cockroaches are such varied eaters, removing enough external food sources to make baits appealing to them can be difficult.
In other words, cockroaches will simply become unwilling to feed on the baits you set out.
To make baits as effective as possible, you should alternate them. Gel, pastes, aerosol foam baits, and granular baits should all be used in rotation and placed directly into or near harborage areas. 
For best results, change bait ingredients and formulations every three months until the cockroach infestation is resolved. 
4. Consider investing in professional treatment
Sometimes, it's impossible to get rid of cockroaches with a DIY approach.
Instead, you need to bring in the big guns and hire a professional pest management company. 
A pest management team will use professional-grade products and tactics to target cockroaches, kill adults and juveniles, and provide the follow-up treatments needed to prevent re-infestation. 
To find a team in your area, contact us at (844) 532-0076, and we'll connect you to a reputable, local pest management professional. 
Bottom Line
To get rid of cockroaches, you've got to target them from all angles. 
While no single product will eliminate all your cockroaches, you can use a combination of traditional and non-chemical treatments to kill the pests and prevent them from returning. 
We recommend using every product mentioned on this list for the fastest and most effective control. Working together, they'll target and eliminate your cockroach problem and help you get life back to normal. 
Best Overall
How We Tested the Cockroach Products
Our list of cockroach treatments ranges from IGRs to gel baits. 
To choose the bedbug treatments we used to make our recommendations, we collected the top products our pest management professionals use in our homes and out in the field, including foggers, sprays, and baits, and then we chose the top options in each category. 
Once we had our initial list of products, we tested each option and evaluated them based on their performance, price, ease of use, and how quickly they killed cockroaches. 
The result of all that testing is this comprehensive list of effective, targeted, professional-quality cockroach treatments you can use for DIY pest control.
Why Trust Pest Dude?
When you consider a product recommendation, trust is essential. You want balanced information based on real-world experience. Here at the Pest Dude, we're committed to giving you both. Our teams research and test every product. We compare results with other licensed pest control professionals, and we double-check our findings.
Zachary Smith, our company founder, has over 25 years of field experience. He runs his own company, Smith's Pest Management, serving home and business owners throughout the Bay Area. Zachary has the final say over featured products. The goal is to give you the knowledge you need to solve pest problems like a pro. It's our pleasure to put our expertise at your service.
Yes. Cockroaches can carry a variety of diseases and are known to transmit Salmonella bacteria, which can cause illness in humans with symptoms similar to food poisoning. Cockroaches spread bacteria and diseases by crawling through filthy and unsanitary areas and contaminating food materials in homes and commercial settings. 
No. Unless you treat your cockroach infestation aggressively, it will only get worse. Cockroaches breed and reproduce rapidly, and females can lay hundreds of eggs within their lifespan.
To stop the infestation, you must leverage various approaches, including sanitation, insecticide treatments, baits, and exclusion tactics.
Cockroaches usually enter homes by crawling through small gaps and cracks around doors, windows, and vents or hitching a ride in on luggage, backpacks, clothing, or other materials.